Plastic water cap are widely used in our life, such as NongFu spring, Master Kong,c'estbon, all of this brand is sale for natural mineral water, Sino has rich experience in supplying water capmolding line project, we could offer you best solution.
Usually, for plastic water cap, diameter is 28mm, raw material is PP or PE, and formold, in general, we will choose hot runner system with point gate, mould steelis S136. As we know, for cap mould, there will have safety ring, usually have two ways make it. One is made by mold insert, when production, you can got cap mould with ready safety ring, the other is made by cutting machine, after cap production, use cutting machine to cutting it. Compare with this two way, we prefer to suggest make insert, by this way, you can save more time.
We have made more plastic water cap mould, for example, before we have made 72cavities cap mould, used by DKM520sv, mold safety ring made by insert, cycle time around 25s. we could offer whole line for cap mould production, include plastic cap mold, suitable injection machine, and necessary auxiliary machine,such as chiller, dryer, auto loader, etc.
Ifyou are interested in plastic cap molding solution, or you are looking supplierto help you start water cap & water bottle molding project, pls feel free to contact me, Sino will be happy to offer best solution for you.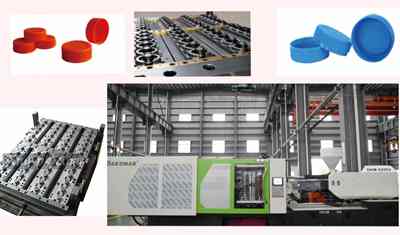 Skype:Sino.pm
Whatsapp:+86 138 5763 5311