Sino Holdings Group is one of the few turnkey solution suppliers in China, we are professional in supplying tailor molding equipment & service for PET bottle injection molding project.
To start a full line water bottle molding factory, you should have the equipments as following:
1.PET preform molding solution
For PET preform molding, this involves a lot of equipment, for example PET preform mold, PET special injection molding machine & necessary auxiliary machine, such as auto loader, dryer, dehumidifier, usually we will choose three in one machine for PET Preform molding project, also, chiller, mixer, etc.
2.PET bottle blowing system
As we know, we need use blowing machine to make PET bottle, there are two main equipment, one is blowing mold, the other is blowing machine. And for blowing machine, we have two system for you selection, they are full auto blowing system and semi auto blowing system, we will choose the best solution according to your investment and capacity requirements.
3.Cap molding solution
You need molding equipment as following: cap mould, injection molding machine, auxiliary machine, sometimes also need cutting machine.
4.Filling system
Three in one machine for washing, filling and sealing. Also, you will need some necessary devices such as conveyor belt.
Sino has rich experience in PET preform molding project supplying, we could supply you best solution for PET bottle molding line, if you are looking for supplier or you are interested, pls feel free to contact me.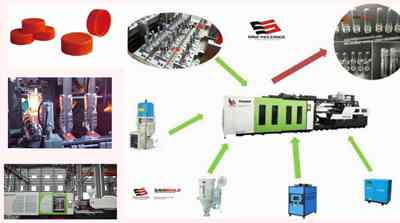 Miss.Ysaline
Whatsapp:+86 138 5763 5311
Skype:sino.pm
Email: service3001@dakumar.com