Sino Mould is good at various consuming electronic plastic parts mold manufacturering, such like electric box mould,switch box mould and fan mould.Sino make special design for fan blade mould, that is both automatic working but also high precision and high quality.
There are different fan mould, however, no matter which shape of plastic fan blade, SINO use the high precision tooling 5axis milling machine from DMG brand, for tooling the fan blade mould sliders. Therefore, once the finish tooling, the mold parting is shining and pefect match.
On the other hand, the injection fan blade mold must have high precision in centering of the fan with the outside frame. SINO gives special solution for the centering location, therefore, after the assembling, the plastic fan and the frame runs without any noise of testing.
In a word, duing the past years, SINO has set up a full complete quality inspection system in fan blade mould design, tooling and molding solution.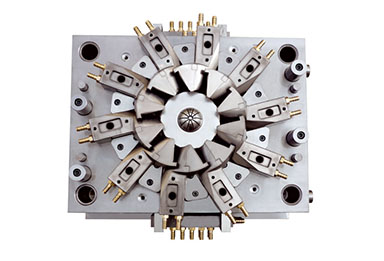 Mould Name:
Fan Blade Mould
Product Size:
300x300x180mm
Product Description:
Fan Blade
Mould Cavity:
1 cavity
Mould Size:
800x800x680mm
Suitable Machine:
DKM-650Ton
Mould Main Material:
S136
Mould Injection System:
Anole Hot Runner
Mould Ejection System:
Eject Plate
Mould Cycle Time:
20 Seconds
Mould Running:
1 M
Delivery Time:
60 working days
Mould Features:
Multi-slider movements, high precision & balance test passed.