In drinking market, water cap mold anti-theft drawing will be more popular because it could give customers impression that water bottle was not been open before. So, this kind of water cap mold took a high proportion in factory cap mold exporting.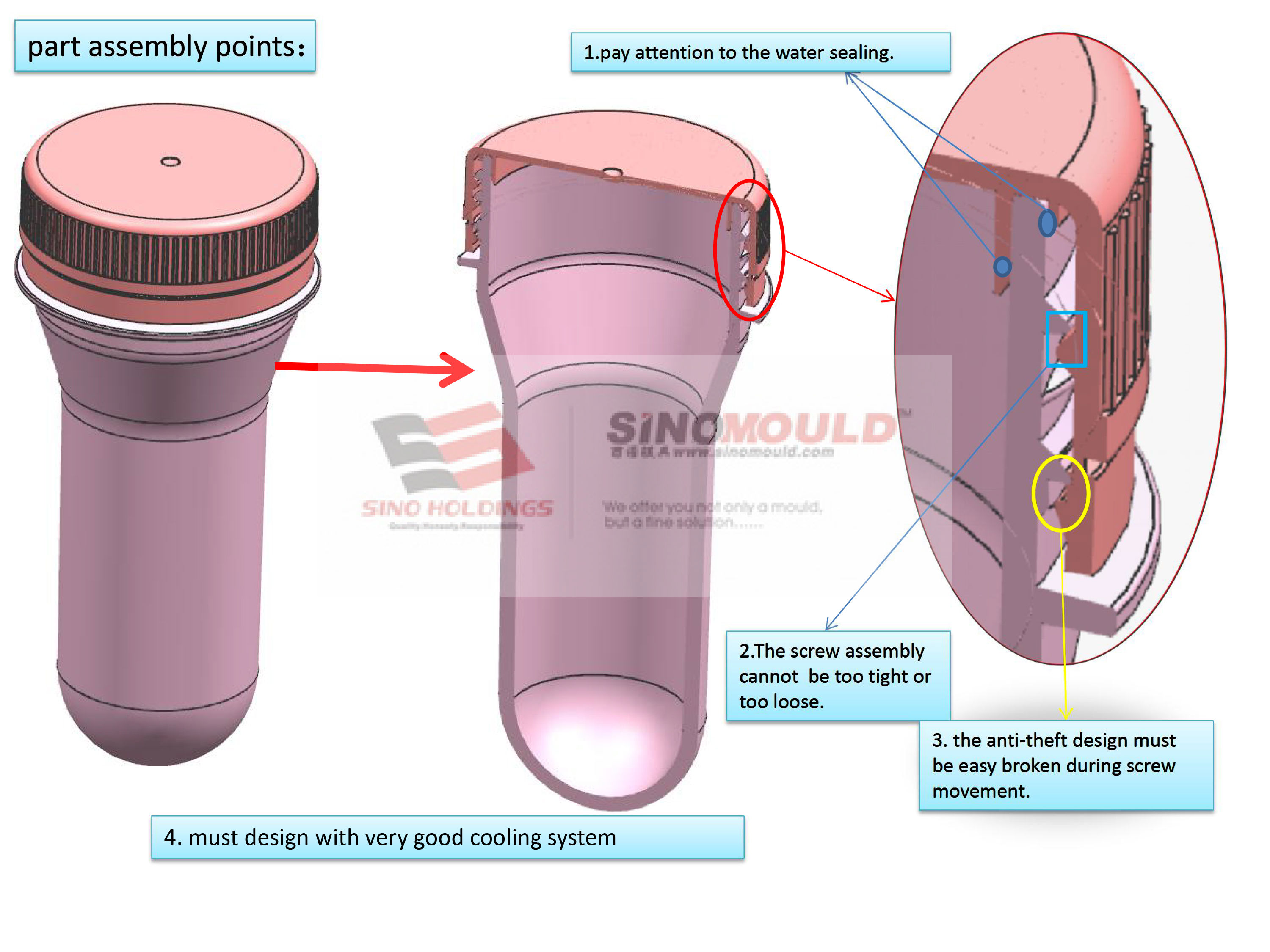 Anti-theft caps molding
1. Caps need good assembling with injected PET preforms, no matter its fitting issue or water seal function. Designer need to consider its suitable cap ribs thickness and demolding angle.
2. For injecting this cap mold, raw material with high MFI will be easy for injection and ejection, index around 20 will be prefer.
3. Anti-theft water cap mold had two kinds of drawings, one is anti-theft was designed by mold slides moving, the another way is not but customer need to purchase cutting machine, then cut injected caps into anti-theft ribs.
4. Slides cap mould drawings need to design with multi-group water lines. Cooling diameter dimension bigger than 10mm will be better in cooling result. Besides, air venting system is also pay more important role. Designers need to seriously consider its position and make a suitable solution plan. Normally, once drawings finished, our team will make mold flow analysis. This way could check injection balance or not, injection pressure and check suitable clamping force.
5. To make a high precision and high quality anti-theft caps moulds, tooling machines are important. High precision lathe, EDM and wire-cutting, all are most important process.
6. Once cap mould work with high speed molding machine, its cycle time will be greatly reduce to shortest. High speed and high injection parameter, caps molding will be quick and nice performance.
From: Stacy
Email: sino6001@sinomould.com
What's APP:+8615168642559