How is the product becoming popular on market? Usually, there are two methods: more multifunctional and practical, or better appearance. Keeping unique is the largest core competitiveness of Custom Plastic Injection Mold. SINO MOULD CO., LTD, since 1992, devoted on providing satisfying custom plastic injection mold service with the shortest delivery based on high precision and quality.
What Could Custom Plastic Injection Mold Service offer?
3D print & Prototype injection Molds
3D printing technology can make products at the shortest time, which could detect the imaginary products more stereoscopically. After that, develop a trial mold for actual testing.
The benefits: Fastest mold tooling time as make one or little cavities with normal steel (like #45). Especially for multi-cavity large molds, before the mold development, make small test mold can effectively detect the rationality of the products. And for some industrial engineering projects, products can be tested in high-voltage and high-speed in advance, which could accumulate data experience before formal large-scale development.
Mass Production injection Molds
Sino Mould could offer the complete molding solution as long as the customer offers a product or a 3D industrial design.
First, we will do the pre-molding analysis before mold making, to analyze the structure of the product and the feasibility of ejector. By that, Design the best mold structure under the premise of ensuring the function and appearance. And avoid the waste of working hours in the later period by the mold flow analysis.
After the mold drawings are confirmed, we will select the most suitable steel for processing. Every process is subject to strict quality control to ensure the dimension of each mold parts.
Finally, it would take the long-term mold testing of various pressures on the finished mold to ensure efficient and stable production. And after sending samples, collect the feedback from customers, discuss product improvements with customers and provide the basis for mass production of molds. To make the final mold excellent.
Family injection Molds
Some products are similar in shape, but the structure in the middle will be different. This is left and right parts as what we often say. The gate selection and runner balance of the left and right parts are very important. And the type of plastic and MFI will also affect the molding of the entire product. We will do a precise simulation test of these products. At the same time, we can also design the runner switch according to the customer's needs, to achieve the same mold, injection molding of different materials for different parts.
Gas Assistant injection Molds
Applying the gas-assisted technology on injection molds can reduce the weight of the product effectively, but still guarantee the load-bearing of the product.
Overmolding injection Molds
Overmolding is a useful molding method for special product with different materials. It's usually molding by two molds. Thus it requires high precision mold tooling for part precision production.
Double Color injection Molds
It is usually for the part at same plastic but different color. This double color injection mold can make the appearance of the product more beautiful, easy to change color without spraying cost.
Why Choose Sino Mould For Custom Plastic Injection Mold Service?
Strong R&D Team
R&D is the soul of a company's technological innovation. There are independent departments for product development, product design and mold design. Most of designers have more than 8 years of professional experience for product or mold. Each R&D project will be organized with a meeting, make the feasibility analysis by the designers, project engineers, mold processing team leaders. Under the premise of function and aesthetics, the mold structure will be optimized to achieve high life and high stability.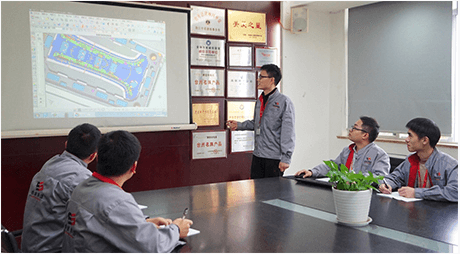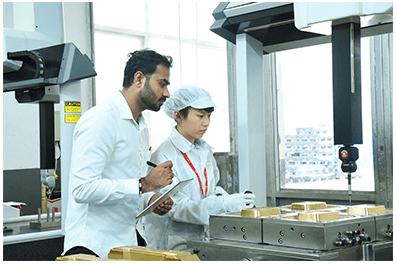 Precision Tooling &Rigorous QC
Precision Tooling could finally ensure the product weight tolerance and stable mold running. So Sino Mould keeps top quality of mold tooling equipment: such as CNC Milling Center 11 sets, High Performance Milling Center 5 axis from Germany, 3+2axisHigh Performance Milling Center, Mirror EDM from Japan and so on. There is even a CNC Milling Machine with tooling capacity 6000mm*30000mm*26000mm for big part molds.
Besides, there is rigorous QC for each tooling process. Otherwise, it would take huge cost for solve the problems when they be found on final mold. That's Sino Mould has always advocated for the shortest delivery time for molds by rigorous QC in the details.
Efficient Mold Assembling Team
The ground and lifting equipment of the Sino Mould workshop has a capacity of 200 tons, and we have large collision machines too. The assembly workshop is in the form of a pipeline that can greatly provide work efficiency, and each worker is more dedicated and professional in his own field of work.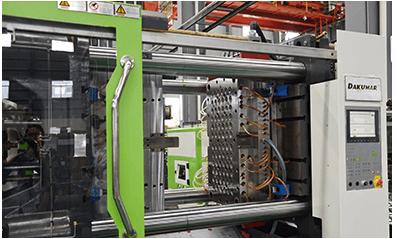 Mold Test Workshop
There are 25 sets DKM plastic injection machines from 50 Ton to 3350 Ton. Sino Mould would test every mold for high or low pressure based on material required by customers, to test the best finished parts. And customers would get the efficient molding parameter of the mold testing, as they are done by our 20 plastic molding engineers with at least 10-year experience, including the injection pressure, injection time, cooling time…
Service Team
Sino Mould provides the comprehensive and timely service thanks to professional service team.
Superior lifetime service are one of the key reasons why customers choose Sino Mould, which are before-sale, in-sale and after-sale service.
The service team exactly responses Philosophy of Sino Mould - we provide not only a mold, but a fine complete plastic molding solution: from part design to part molding, tooling, assembling, packaging and shipping.
Customers Evaluation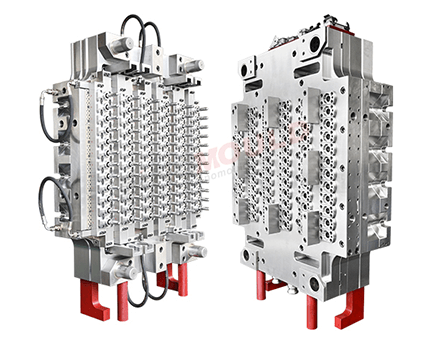 Sino Mould has been our partner since 1999. We still have the first mold from Sino Mould, it still working perfectly.
Due to the excellent performance of their molds during the past years, we recently are discussing the new projects.
Mold quality and service from Sino Mould are exceptional.
----Mexico customer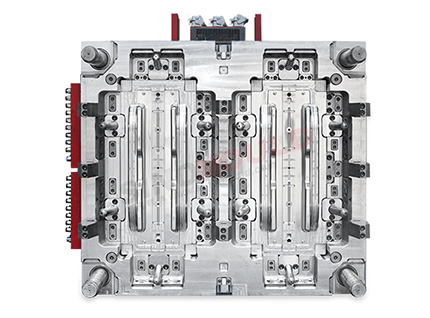 We visited your factory and were impressed, we feel confident to work with someone with 20 years of experience.
Sino Mould offers good quality with on time delivery. The moulds show that Sino Mould is the most profesional mould maker in Taizhou.
--- Nigeria customer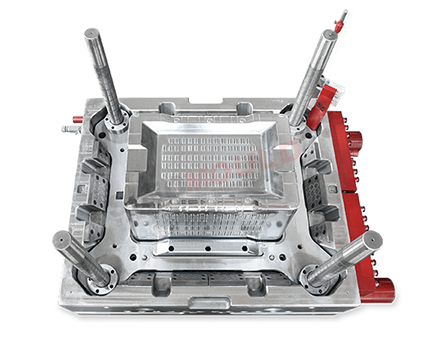 We have bought molds from many companies, after mould running for long time, than we find that the moulds form Sino Mould are really nice.
The manufacturing cycle times of these molds are very fast, which indicates that the design of the molds and especially their cooling is excellent.
---Braizl customer
The total development time for mold is longer than other industrial products. The longer time would increase your cost, which usually is because back work for mold as design mistakes and inaccurate tooling. Besides, it would also leave enough time for testing with machine and other equipment. Thus, time is the money. The quicker you get the quality project production after the investment, the larger market share you could take. That's why it is important to choosing a reliable and outstanding supplier.
Start Your Custom Mold Service
What you need to offer:The sample & 3D drawings of your product
What we would offer:

The best mold solution with the best price