The expert plastic paint bucket moulds to help you get the efficient and profitable production of plastic paint buckets could be provided by Sino Mould, one of the Chinese leading plastic injection mould manufacturers with at least 25-year plastic bucket moulds manufacturing.
Nowadays, efficiency is required by markets. The constant quality and efficient production long-term are demanded by more and more plastic paint bucket manufacturers too. That's why Sino Mould is engaged in sophisticated solutions for plastic paint bucket moulds, finally becomes a reliable partner for support customers in their development and manufacturing process of plastic paint buckets. And it's glad that customers trust our experience, expertise and the on-site service.
The Plastic Paint Buckets Design Ability
That business would be successful or not majorly depends on the product, thus developing and manufacturing the nice plastic paint bucket with stronger competitiveness is the key process for your plastic paint bucket business. That's why Sino Mould develops its professional design team for plastic paint buckets.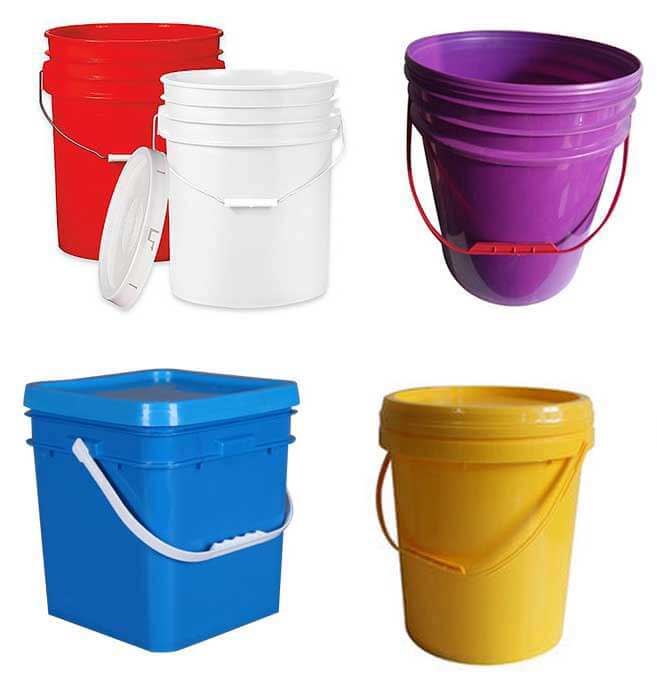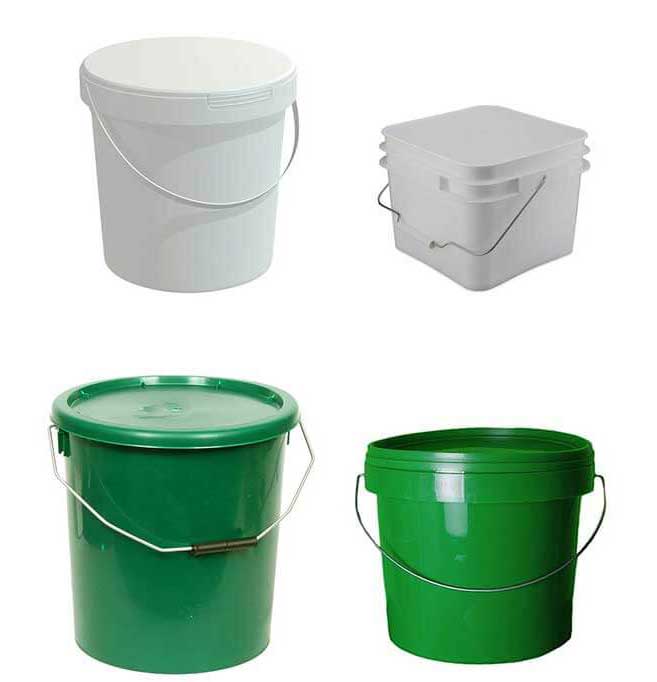 Below are the basic notes about the plastic paint buckets:
Material

new or recycled polypropylene (PP), polyethylene (PE).

Style

round, oval, square, rectangular… nested, straight-side…

Volume

from 1 L to 3 L, 1 gallon to 5 gallon…

Decorations Way

In mould labeling (IML), heat transfer printing, digital print…

Style

round, oval, square, rectangular… nested, straight-side…

Properties:

a. Strength – durable for loading paints.

b. Static and dynamic loading capacity requirement.

c. Sealing property – guarantee the paints quality and transport.

d. Stacking – to save storage room and easy for transport.

e. Antistatic agent – prevent from dust and dirt.

f. UV protected – as the storage and transport requirement.

g. Filling paint temperature requirement.

h. Reactions to chemicals – to ensure buckets are solvent-resistant and safe for use with all paints when it's necessary for test the possible reaction.
The Plastic Paint Bucket Mould Design Ability
You may have the challenge:" How could I produce plastic paint buckets as efficiently and profitably as possible?" Sino Mould could help on it by its superior design team for plastic paint bucket mould. To make it simple from three aspects: mould structure, mould steel, mould cooling.
---
Suitable Mould Structure
It depends on the detail plastic paint buckets, such as the sliders design which could not be required when the buckets are direct and simple; mechnical ejection design for automatic falling or collection by robots; certain fixing design for further heat transfer printing.
---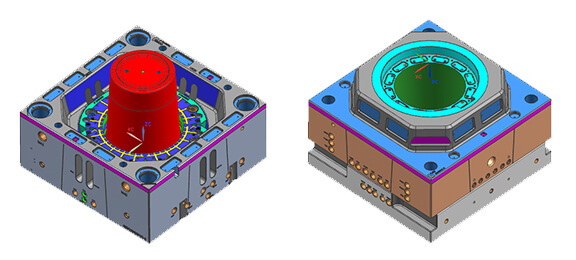 ---
Optimal Mould Cooling
The cooling design would be well done when customers require shorter and shorter cycle time, besides the best cooling channels, the Cu-Be inserts also could help on the better cooling, the main parts could be bottom area and top mouth rib area.
---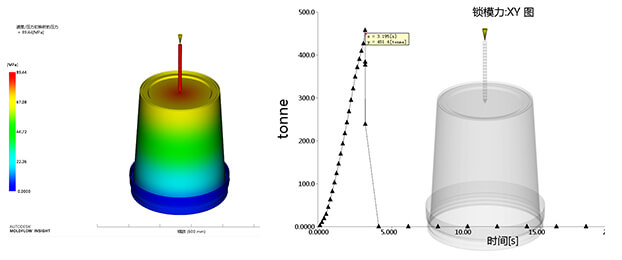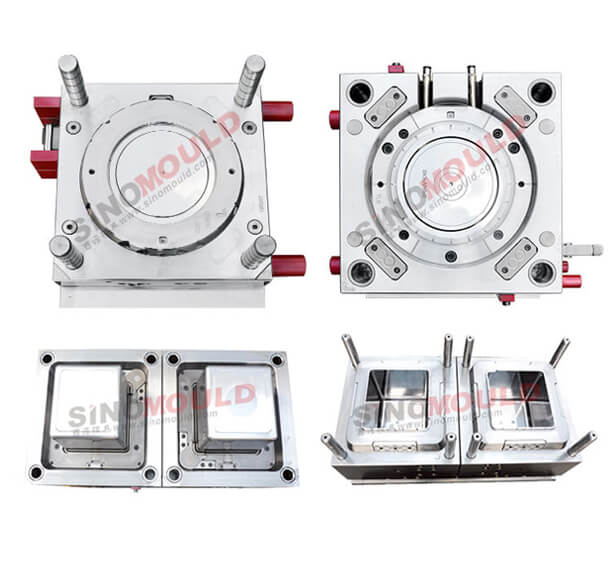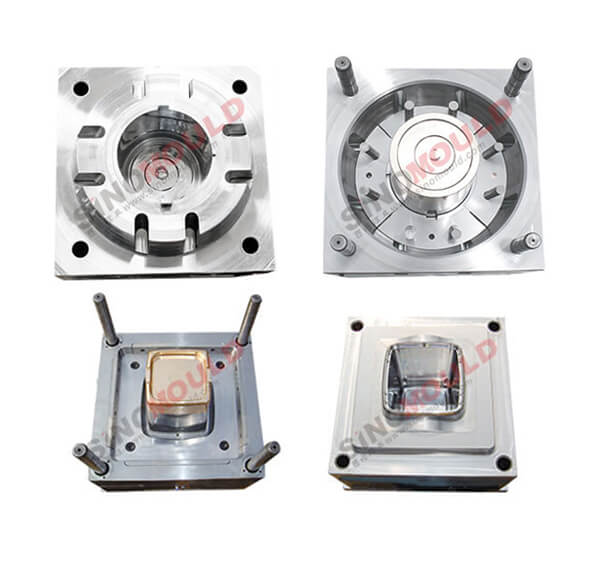 Videos about Efficient Plastic Paint Bucket Moulds Tested at Our Factory
5 Gallon Pail Production Line (35S)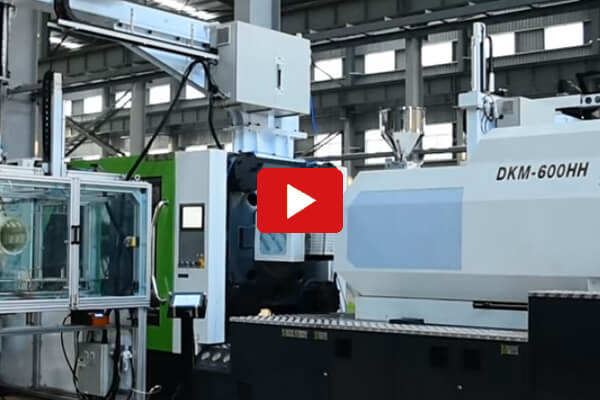 IML Paint Bucket Production Line (20S)
The Plastic Paint Bucket Mould Tooling Ability
If the design of plastic paint bucket and its mould is well done, the mould tooling will be very easy and the dimensions will be controlled precision under the condition that the tooling equipment is quality. And for plastic paint buckets mould, as the acentric and sealing property are usually required higher, it requires higher on tooling machines. There are superior mould tooling machineries in Sino Mould, kindly check them here.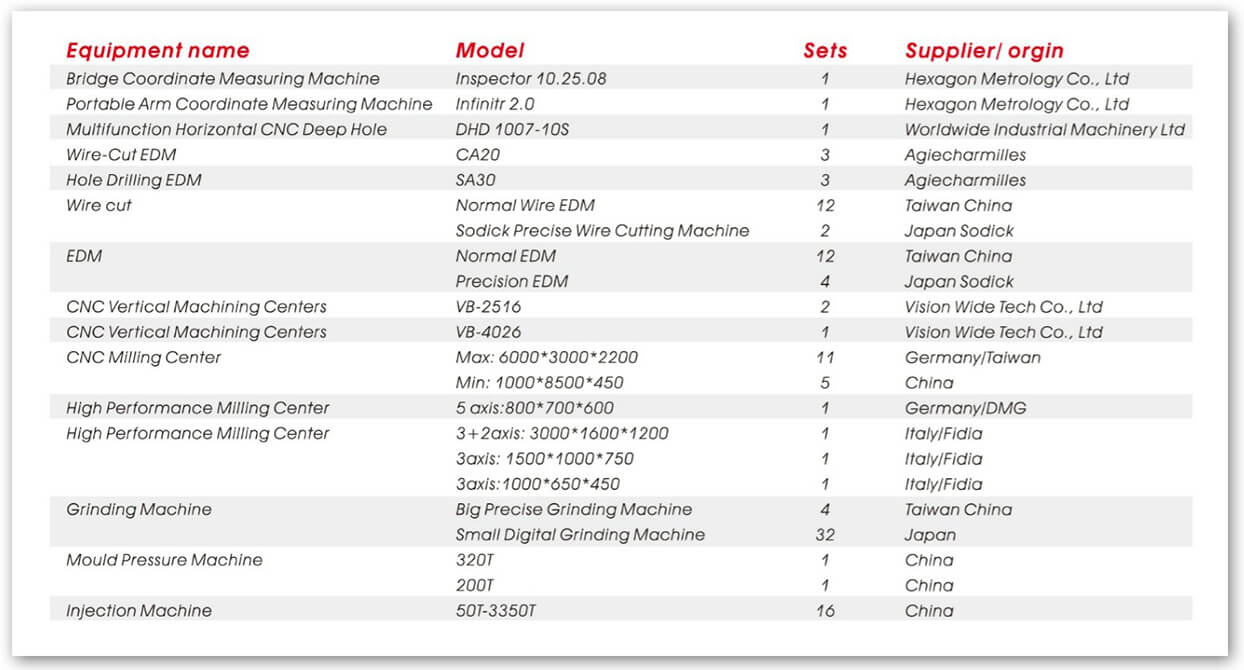 Excellent Service for Plastic Paint Bucket Moulds
Plastic Paint Bucket Project Audit (invest-return checking and advice, analysis of plastic molding feasibility, injection machine models selection…)
Competitive Plastic Paint Buckets Analysis and Design (provide the drawings)
Process Report per Week (help you learn the latest process and arrange the related work timely)
Quick response (such as re-making of broken mold components)
Training Support (mould operation and maintenance, molding capacity improvement…)
Custom special support of maintenance and warranty time
Different Plastic Paint Bucket Testing Support (Weight Tolerance, Concentricity Test, Stacking, Drop Test, Sealing Test…)
Contact Us Now for Your Plastic Paint Bucket Mould Solution
So if you'd like to get the efficient production of competitive plastic paint buckets with nice specifications and superior properties. Leave your requirements here for a quick response, our sales engineers would contact you for further discussing of the plastic paint bucket moulds.